Asbestos expertise
Asbestos control consists in visually locating a component (asbestos fibres) invisible with the naked eye. The detection of asbestos is thus always indirect and founded on an expertise in materials that were manufactured, often locally, 20-40 years ago.
This expertise is acquired by the information near the companies (or their former employees) which manufactured products based on asbestos. We ask them to communicate to us the information (in particular photographs) which they could have on these products. This task is often complicated by the fact that the companies, either do not exist any more, or were taken over.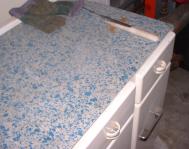 Nevertheless the collected data have a priceless value.
For example they teach us that the blue marbled plate opposite is in fact asbestos cement.
---
©TEKIMMO 2002 - last site update : 11/2008